TS 2 ORANGE
A championship-level sport pistol developed in close cooperation with elite shooters on the CZ Shooting Team. Its parameters have been primarily optimized for competing in the IPSC Standard division and USPSA Limited division, but like other pistols in the CZ TS 2 series, it can also be used for other practical shooting disciplines.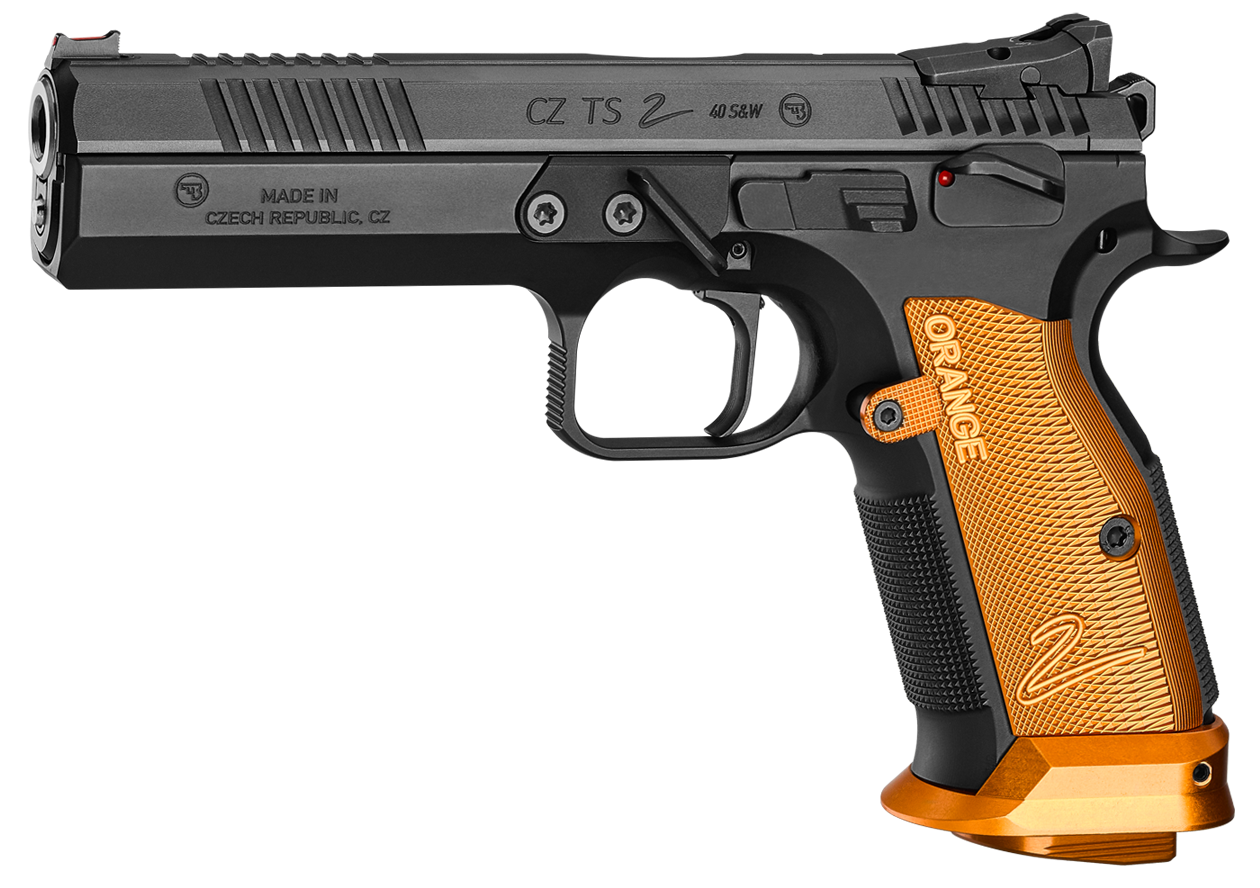 Take Your Shot
Raise your game or make it personal? The choice is yours.
Free with every TS 2 ORANGE
Limited to 100 members only at the price of €399
CZ TS 2 ORANGE
Custom serial number
Personalized engraving
Extended warranty +1 year
First Movers Exclusive Benefits
45 minute live one-on-one online training session with Eric Grauffel
Certificate of Authenticity on blockchain
Access to First Mover Advantages, incl. exclusive content, benefits and more
Frequently Asked Questions
What are First Mover Advantages?
First Mover Advantages are a unique membership program for CZ pistols owners. It includes 2 tiers, Performance and Elite, which confer owners various benefits such as:
Access to the Members Platform with exclusive access, events, merchandising and more
Extended +1 year warranty period
Certificate of Authenticity on Blockchain
Physical pistols customisation (Elite members only)
45 mins Online Training sessions with Eric Grauffel (Elite member only)
Possibility to win a two-day course at EG-CZ Academy at Quimper, France (Elite members only)
What is the Digital Certificate of Authentication?
The Digital Certificate of Authentications are registered on a blockchain which ensures they can not be duplicated and your ownership can always be verified. This creates the ultimate level of security and proof of ownership while giving you access to our First Mover Advantages.
Why should I register my Digital Certificate of Authentication?
Your new CZ TS 2 ORANGE will increase in value, due to proof of its authenticity and verification of you as its registered owner on the blockchain. Potential barriers to its future sale are reduced, as you can prove the pistol is legally yours to sell, thereby eliminating any concerns the buyer may have of fraud. Sales can also be quickly and easily carried out with traditional currencies or cryptocurrencies. And since transfer of ownership is directly recorded on the blockchain, there is no need to produce a physical certificate of ownership.

Warning: Registration of the CZ TS 2 ORANGE pistol as an NFT does not replace the mandatory administrative obligations of the seller and buyer!
How do I claim my First Mover Advantages?
All First Mover Advantages that are available to you are displayed in the Benefits section of the members platform. Simply click on any benefit to see the terms and conditions and how to redeem it.
What First Mover Advantages are coming in the future?
CZ is committed to elevate your shooting experience and we will add new advantages in near future. We will regularly expand the membership section of our platform with more exclusive content, benefits, merchandise and more. Make sure to check your account periodically to see what new First Mover Advantages are available to you.
Do I have to renew or pay anything for my Advantages?
First Mover Advantages membership is included with the purchase of your pistol. It has an unlimited validity and there is no payment needed to keep it active.
How do I upgrade to Elite Advantages?
The Elite membership is limited to the 100 members who purchase the Elite Advantages alongside their CZ TS 2 Orange. There are no options at the moment to upgrade your membership, but you will be informed when this opportunity comes.
What is an NFT?
NFT stands for "Non-Fungible Token", which is a digital token that represents a unique, one-of-a-kind physical or digital asset on "blockchain" technology. Unlike a "fungible" asset, which has equals that can be evenly exchanged (such as a $20 bill equally exchanged for another $20 bill), a "non-fungible" token represents an item that is a complete original and can never be replaced with something else or exchanged with another NFT. When registering your CZ TS 2 ORANGE as an NFT, it is digitally recorded on blockchain as a unique, authentic token and you as its verified owner. The NFT would therefore serve as your official certificate of legal ownership and proof that your new firearm is an original that was purchased directly from the manufacturer.

Warning: Registration of the CZ TS 2 ORANGE pistol as an NFT does not replace the mandatory administrative obligations of the seller and buyer!